Belize Jungle Tumble Adventure


We have 2 types of Balls for people to experience.
One is WET, and the other is DRY.
They can choose to do only one, or both.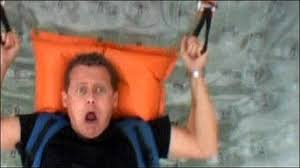 (1) To do any of the Jungle Tumble trips, when the guests arrive, they must remove all jewelry, watches and another sharp objects that we will keep in a locked strong box for them and its safe. All shoes MUST be removed at the time the guest climbs into the Ball. We will deliver them to the guest when he exits the ball after his or her trip where they can put them on and not get their feet dirty.


(2) To ride the dry ball, guests are strapped into a seat and rolled down the hill. One or two people can ride at the same time.
(3) To ride the wet ball, no long pants or shoes are allowed.
It is necessary to ride the ball in a
bathing suit
or shorts and short sleeved shirt since we throw a
5 gallon bucket of water
inside the ball along with the riders. Long pants and lots of clothing will prevent the rider from sliding around inside the ball as intended.
Instead of rolling over and over as with the dry ball, people in the water balls slide around in the water as they roll down the hill.
Both trips are completely different experiences.
We will be passing the Belize Zoo. You can add the Belize Zoo to the day's activities with no extra cost. All you need to do is pay your entrance fees ( $10.00 per/ adult and $5 per/ child ) and we will do the tour of the Zoo with you